This is a page dedicated to my love for art. I created this page because I have several friends that are great artists and I agreed to represent some of their work on this site. I think that you will agree that art helps the soul. I appreciate anyone who shows their expression in more means than words. I hope you appreciate their work much as I do and hope you will visit their sites. Their art is all for sale if you would like to contact them for purchase of their art. Please enjoy.

VISUAL ART BY Kurt von Behrmann
Title: 3 Men
Date 1998
Medium: technical pen on Bristol Vellum paper
By: Kurt von Behrmann

This drawing was one of the first openly erotic gay male drawings I ever created. It was just bits and pieces of dots that together make the image. I wanted to project, leather, power and the male form and this is what I came up with and started this whole series of drawings of men. I really think that the Mapplethorpe show in Cincinnati had a huge effect on my work and decision to create erotica. I was trained exclusively as a fine artist, M.F.A. and became a Professor of Art and after all that realized the expressing sexuality is what is missing from so much fine art. In the end, most erotic fine art looks forced as if no one is having any fun. While this is not a "fun" drawing in the way smiling man is, these men are here to have a good hot sweaty sexual time without fear, guilt or worry. Sometimes, sex should be just that simple.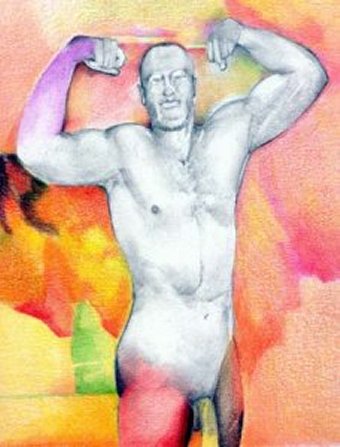 Title: A smiling Man
Date: 2001
Medium: prisma color on bristol vellum paper
By: Kurt von Behrmann
Original art for sale

This drawing was inspired by a man who I emailed back and forth several times who gave me permission to use his image for my art. While we never met, and I could not relocate him, I enjoyed creating this drawing based on him and coming up with new ways to explore the male form.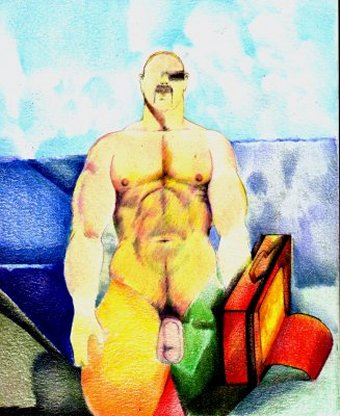 Title: A Suitecase of Dreams
Created: 2001
Medium: prisma color on bristol vellum paper
by: Kurt von Behrmann
Original work of visual art and for sale.

This drawing was inspired directly from a model I had the pleasure of meeting during an erotic art show many years ago. This past March I saw him again and requested that he pose totally nude and take a few poses. He agreed, and I took the drawings created from that two day session, all of which were in black and white, and then created color drawings from them. This was the end product.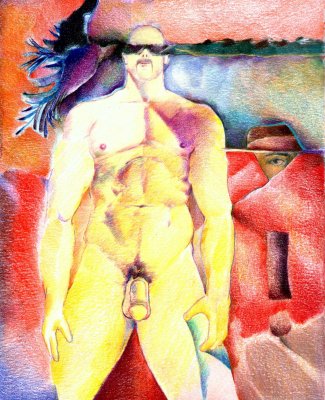 Title: Dan
Date: 2001
Medium: Prisma Color on Bristol Vellum
By: Kurt von Behrmann

This is was the first color drawing of Dan I had ever created. It came from a session back in March. I am so greatful for his time and willingness to do this pose for me. The drawing I think reflects an emotion seldom seen in gay male erotica, longing and poetry. I wanted to project a softer side without making the man look soft. I wanted to project the power of wanting and longing without making it looking sappy.
SOME BACKGROUND INFO ON KURT
Creating art has always been a constant in my life. It is as much a form of self-expression as it is communication. Through drawings, paintings and multi media constructions, they have all been avenue for me to allow the world to see reality as I perceive it, and to tell me my story. Be it in my erotic based work, or none erotic efforts, each piece is like one page in an autobiography. Each creation permits the viewer a glimpse into my internal world. It is my hope that as the viewer engages with the work a connection is made and common ground created so that both can see what is often hidden.



My background as a visual artist one that is common among creative people. My father, Alfred Hans-Gunter von Behrmann, was an artist from Germany as well as an art critic, poet and theorist. Like him, I literally followed in his footsteps. I became a published poet, a professor of art, an exhibiting working artist, a freelance writer and an art critic. My training included the usual program of graduate school, M.F.A. Cranbrook, and undergraduate school, B.F.A., with honors, from the Art Academy of Cincinnati. Along the way I exhibited in New York, where I had one of my first solo outings, earned a Pollock Krasner Foundation Grant, and had the opportunity to travel and teach. Eventually all of this culminated in me working and living in Phoenix Arizona as an artist and writer.



With the pieces that you see here it is my hope that each tells you something about myself, the subject and in the process adds something to the existing vocabulary of contemporary visual art. When I think art work that is effective, art work with meaning, I think of a quote from Frida Kahlo.



I never painted dreams. I painted my own reality

Frida Kahlo

( Frida Kahlo, from the book The Brush of Anguish by Martha Zamora page 114)



With these drawings, I have drawn my own reality.



Kurt von Behrmann

Phoenix, Arizona

September 13, 2001


EMAIL KURT AT behrmannart@cox.net